Newport man jailed for shaking two-month-old baby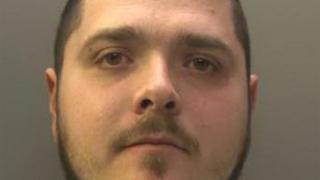 A man who left a two-month-old baby with lifelong injuries has been jailed for seven years.
Babysitter Gary Joy, 26, violently shook the baby "in frustration" after being left alone to look after him, Newport Crown Court heard.
The court heard on Thursday the boy, now three, suffered bleeding on the brain, spine and in the eyes.
Joy, from Bettws, Newport, was found guilty of causing grievous bodily harm with intent.
He claimed he was playing with the baby and throwing him in the air - but did not know how many times.
Judge Jonathan Furness QC said: "Unfortunately the child he will never recover from his injuries. He is a severely disabled young boy, totally dependent on carers and will remain so.
"To call it serious harm does not do justice to the harm that has been caused. This was an incident that occurred in a moment of frustration when you lost control of your senses."