Golfer's widow Sara Skinner to repay illicit £213,000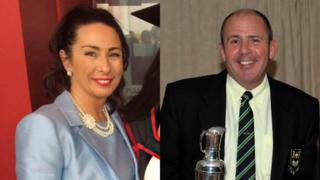 A golfer's widow has been ordered to pay back £213,000 which her late husband made from selling counterfeit cigarettes.
Former international golfer Mark Skinner made the money by selling the cigarettes from ice-cream vans.
Cardiff Crown Court heard he and Sara Skinner, 46, of Cwmbran, spent the money on 21 holidays in four years, and bought a fleet of luxury cars.
She has served half of a 30-month sentence for money laundering.
Skinner was brought back to court on the day of her release to repay the money and given three months to comply or face two years in jail.
Mark Skinner had used his fleet of ice-cream vans to sell fake Regal cigarettes and Golden Virginia tobacco to pay for the couple's expensive lifestyle.
After he was arrested by police, he was found dead on the banks of the River Severn before any trial took place.
'Greed'
Sara Skinner was charged with money-laundering for spending the money made by her husband.
The court had heard police had carried out a raid on the Skinners' house, which was described as lavish and containing "many artefacts of high value".
They had bought cars, including a Ford Focus, BMW convertible, a Ford Mondeo, Range Rover Sport, Fiat 500, and a Land Rover Discovery, which were worth around £120,000.
Simon Goodman, representing Skinner, said the order would mean she would lose her house, which she was renting to another family.
The court heard she had lived a miserable existence, and that her husband had lead a double life, having an affair with another woman with whom he had children.
Recorder Mark Powell said: "She knew full well about the criminal activities which had gone on in her home.
"It is not a case of you turning a blind eye to what was going on - you knew full well what was going on.
"You and your husband were greedy. This offence was nurtured entirely by greed."