Gelligaer hepatitis A outbreak at school sparks inquiry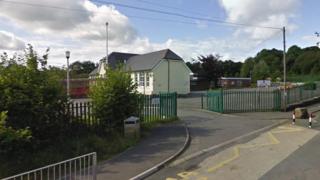 An investigation has been launched into an outbreak of hepatitis A at a Caerphilly school.
Four cases have been identified at Glyn-Gaer Primary School, in Gelligaer, according to Public Health Wales.
Pupils and staff who may be at risk have been offered vaccination as a "precaution".
Heather Lewis, of Public Health Wales, said the viral infection has "unpleasant symptoms but is rarely serious".
Ms Lewis, a consultant in health protection, said: "Children often only have a very mild illness.
"Symptoms can include flu-like symptoms such as tiredness, general aches and pains, headaches and fever, as well as loss of appetite, nausea or vomiting, abdominal pains, jaundice, very dark urine and itchy skin."
Public Health Wales is being assisted by Aneurin Bevan University Health Board and Caerphilly council in the investigation of the outbreak.
Ms Lewis said the authorities were "confident" all public health measures had been taken and the risk to the public remained "low".
"However, due to the very long incubation period of hepatitis A we may see more cases in individuals who were exposed before they were vaccinated," Ms Lewis added.
Public Health Wales urged people to wash their hands properly and said parents had been advised not to send their children to school for a week if hepatitis A was suspected.