Kirsty Hughes's mephedrone death after fat taunts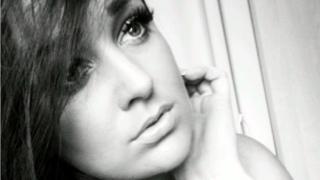 A mother who was taunted for being fat died after taking drugs to help her lose weight, an inquest has heard.
Kirsty Hughes, 26, from Merthyr Tydfil, collapsed in November 2015 after buying mephedrone in an effort to shed baby weight, Aberdare Coroner's Court heard.
A post-mortem examination found the cause of death was a brain injury after cardiac arrest "following ingestion of mephedrone".
Coroner Andrew Barkley concluded her death was drug related.
Mr Barkley heard Ms Hughes, a former South Wales Police clerical worker, collapsed at home, saying "I think I'm dying".
The mother-of-two was on a life support machine for two days before it was switched off.
Her father Kevin said: "She was told she was fat and that's why she took it. She hardly went out socialising so for her to take drugs was a complete shock."
Mr Hughes described how his daughter went to pick up a Chinese takeaway the night before she collapsed, but did not eat anything, saying it was because she had been called fat.
He said she was the "life and soul of the family" and to lose her over weight concerns was "devastating".
The post-mortem examination found her brain and heart were both swollen when she died at Prince Charles Hospital in Merthyr Tydfil.
A 23-year-old man was charged with supplying class B drugs and has been remanded in custody in relation to her death.
Mr Barkley said: "If there's any light, through her generosity Kirsty was able to donate organs for the benefit of others. I hope it's of some comfort to the family in this appalling tragedy."