Council wins Barry incinerator ash fight at High Court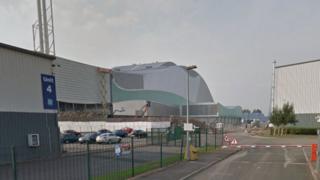 A challenge against an ash recycling incinerator, which campaigners claimed could be "harmful", has been quashed at the High Court.
Vale of Glamorgan council approved planning permission in September for waste materials from Viridor's Cardiff plant to be processed at Barry Docks.
The decision was challenged by residents who claimed it could harm human health and wildlife.
But the council's planning decision was upheld in Cardiff on Tuesday.
Residents claimed the council had wrongly classed the ash as "non-hazardous", failed to consider dust emissions and had not properly consulted Public Health Wales.
But Mr Justice Coulson said the judicial review "must fail" because the claimants had tried to "reargue the merits" of the council's original decision.
Marcus Goldsworthy, the council's head of regeneration and planning, said the decision "vindicates all the hard work" of the planning committee.
"This application was considered properly and thoroughly prior to committee making a well informed and reasoned decision," he said.
"The council will now be seeking to ensure that all of the costs it incurred in defending its decision in the courts are recovered from the claimant."