'Cremation pits' found at Vale of Glamorgan housing site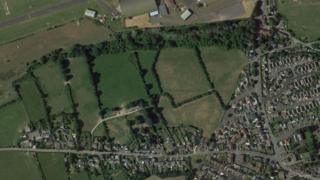 Work on part of a Vale of Glamorgan housing development has been suspended after human 'cremation pits' were uncovered during surveys.
It is understood skeletal remains were found at the St Athan site.
Vale of Glamorgan council confirmed "a number of cremation plots" had been indentified at the Tathana Court development.
House builder Barratt Developments said building work had been "paused" until archaeological investigations end.
"In areas where discoveries are made, building work is paused until we are advised by our archaeological team that it is safe to continue," said an official for the developers.
"Work is continuing as normal across the rest of the site."
'Preserving' discoveries
The site is close to St Athan's air base, with about 100 three and four bedroom homes being built.
A spokesman for the local authority added: "The council has been informed of the discovery of a number of cremation plots at the site, which were made by an archaeologist who was on site as a requirement of the conditions attached to the planning permission.
"The council is advised by Glamorgan Gwent Archaeological Trust, its professional advisors in such matters, that the correct procedures are being followed and the investigation is continuing."
Barratt said it would not release any more information about what had been found at the site until after archaeological investigations were completed "in order to ensure the safety and preservation of any discoveries".