Cardiff man Nigel Mentzel, 70, died from 'legal high'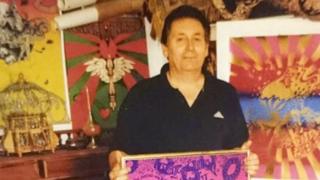 An expert in psychedelic art died after experimenting with "legal high" alternatives to cannabis, an inquest in Cardiff has heard.
Nigel Mentzel, 70, collapsed and died at his home in Cardiff, in January.
The inquest heard he had tried a synthetic marijuana "legal high" at his home but died from synthetic cannabis poisoning.
The coroner recorded a narrative conclusion and warned it was more dangerous than banned drugs.
The inquest heard the retired Cardiff council planner was a leading collector of colourful psychedelic posters inspired by the mind-bending drugs of the sixties and seventies.
He was also interested in mind-altering substances and started using a synthetic drug called "Cherry Bomb", which he bought legally from a shop in the city centre.
'Defensive and angry'
Pathologist Dr Sarah Winstanley told the inquest patients who experienced the effects of synthetic cannabinoids reported worse agitation and hallucinations as well as a faster heart rate.
His partner Julie Garner told the inquest she warned him not to smoke the highs in their home and began to notice a change in his behaviour.
She said: "He would get very defensive and angry and we would argue because I disagreed with his use of the highs.
"He was very private and I never sought help for him."
Traces of the synthetic cannabinoids were later found in Mr Mentzel's system.
Cardiff assistant coroner Thomas Atherton said: "It's quite clear that synthetic cannabinoids are extremely dangerous drugs to use, in spite of the fact it's given the term of legal high."