Cardiff nurse suspended after doctoring sick notes for leave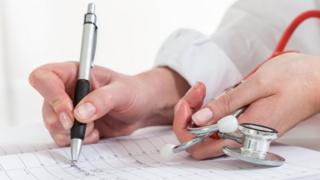 A Cardiff nurse who doctored sick notes to get time off work has been suspended for three months.
Laura Clarke, 42, changed dates on four notes from her GP while working as a senior nurse at the University Hospital of Wales in Cardiff.
She was later dismissed from the post, which she had held for six years.
A Nursing and Midwifery Council (NMC) disciplinary panel said she "acted dishonestly" on four occasions.
The Cardiff hearing was told Ms Clarke's conduct was uncovered after an investigation by Cardiff and Vale University Health Board.
'Mischief'
Case presenter Paul Andrews said: "The sick notes would have been issued anyway by her GP. You can see very clearly the notes have been altered - that's the mischief in this case."
Despite admitting altering her sick notes, she denied it harmed her ability to work as a nurse in the future.
She told the NMC panel her "head was all over the place" when she changed the notes and "couldn't remember" why she had acted as she did.
The panel said her explanations were "too simplistic" and they were concerned she was a risk of repeating her wrongdoing.
Suspending her from the register on Thursday, panel chair Cheryl Beach said: "The panel is of the view that there is a risk of repetition as you acted dishonestly on four occasions."