Usk's Coleg Gwent farm parasite outbreak probe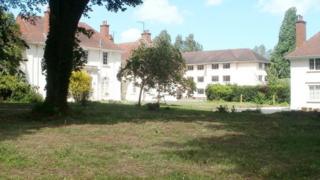 A parasite outbreak at a Coleg Gwent farm in Monmouthshire is being investigated by health officials.
Three people have tested positive for cryptosporidium, which causes extreme diarrhoea, and eight others are being tested following regular, direct contact with lambs at the Usk farm.
The disease is easily passed from animals to humans and can last a month.
Coleg Gwent said it was working with the authorities and letters had been sent to students who may be affected.
Heather Lewis, a consultant for PHW, said: "All the confirmed cases had direct contact with the lambs at the college farm."
She said there was no reason for anyone to avoid visiting petting farms as long as they wash their hands thoroughly afterwards. Healthy people usually recover fully.
Public Health Wales (PHW), Torfaen and Monmouthshire councils are investigating and said the college was cooperating.