Tribute to 'kind, caring" Monmouthshire crash victim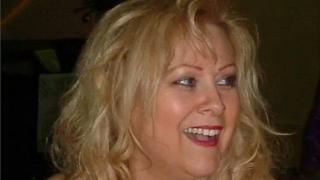 A woman killed in a Monmouthshire car crash has been described as "a kind, caring, sweet person adored by many".
Karen Lewis, 50, from Chepstow, died when her Kia Carens crashed on the B4293 in Llanishen on 19 March.
Her husband Peter described Mrs Lewis as his "Special K" and said they spent "14 great years" together.
A Monmouthshire man, 46, was arrested on suspicion of causing death by dangerous driving and driving whilst under the influence of alcohol.
He is currently on bail pending further inquiries.
Mr Lewis said his wife will be missed by her family and friends, including those at Double Diamond Dog Grooming.
Police have appealed for witnesses to the crash.