HMS Monmouth crew exercise right to march through town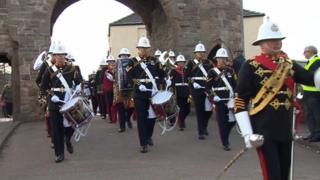 Royal Navy crew members from HMS Monmouth marched through their namesake's town centre on Sunday.
The ship's company, which was given the freedom of Monmouth in 2004, took part in a military and civic ceremony followed by a parade and inspection.
This month marks the 350th anniversary of the use of the name Monmouth in the Royal Navy.
The ship is at Cardiff's Britannia Dock until 24 March.
It will then return to its base in Plymouth where it will undergo maintenance ahead of operational training in the summer.
The crew has recently completed a deployment to Scandinavia and three weeks of exercises with 825 Naval Air Squadron and the new Wildcat helicopter.