£57m Cardiff Eastern Bay Link Road works begin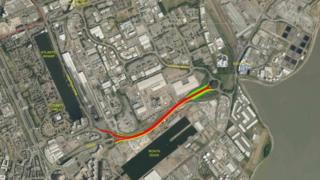 A £57m project to build a new road linking Cardiff Bay and the east of the city has begun.
The Eastern Bay Link Road will connect the A4232 at the Queensgate roundabout with the A48 at the Ocean Way roundabout in Tremorfa.
Transport Minister Edwina Hart officially launched the development on Thursday morning.
Work is expected to be completed by spring 2017.
Mrs Hart said: "Commuters travelling between the east of Cardiff and the bay will also benefit from reduced journey times and a shorter route, while residents in the area of Tyndall Street should see reduced traffic and disruption in their neighbourhood."
About 100 new jobs and 10 apprenticeship opportunities are expected to be created during the construction stages of the project.