Hospital is 'new face' of mental health in Cardiff and Vale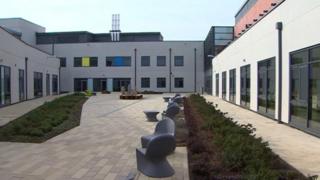 A new mental health unit is opening near Cardiff which aims to bring a "calming, warming and welcoming" environment for patients.
The new facilities at Hafan y Coed are the centrepiece of a £88m revamp of the University Hospital Llandough site.
They include en-suite rooms, not currently available at Whitchurch Hospital, where the mental health unit is closing after 108 years next month.
The health minister said the new unit would make a "real difference".
Hafan y Coed (Haven of Trees) has 134 beds - compared to 2,000 beds when Whitchurch was first built - and reflects the emphasis on care in the community over the last 35 years.
There are around 10,000 hospital admissions a year in Wales of patients with mental health problems - nearly three quarters stay less than a month.
The new unit only deals with the most seriously ill patients, some of whom need to be monitored carefully.
An observation system has been installed in bedrooms so staff can check on patients without directly disturbing them and allowing them to get more sleep.
Additional facilities include "quiet" areas, single sex sitting rooms, a gym, outdoor sports pitch and even a small cinema.
More than 40 pieces of artwork were specially commissioned with local artists with a nature theme running throughout the décor. The hospital itself has 11 garden areas.
Dr Annie Procter, clinical board director for mental health, said the difference between the old style hospital was "immeasurable".
She said people were often vulnerable and poorly when they came in and it was important to provide a safe environment as well as somewhere which was pleasant and stimulating.
Dr Procter said rooms and fixtures and fittings were designed to be safe and also provide privacy and dignity.
"The artwork and everything from the colour of the walls, the seating to the bedding has been chosen with service-users in mind and with them helping to choose it themselves," she said.
"This marks the modernisation of mental health services, the fact we're doing everything we can to reduce stigma.
"It used to be about containment, hiding them, putting them away somewhere - but we understand so much more now so this is about concentrating on therapy, recovery and re-ablement."
Health Minister Mark Drakeford called the new building "wonderful" and said the Welsh Government would continue to invest in mental health services and infrastructure.
Analysis by Owain Clarke, health correspondent
This feels as different to the old Victorian asylum as you can imagine.
Building the new mental health facility at Llandough hospital - close to other hospital services like maternity and orthopaedics - is also a deliberate move.
It sends a message that unlike the old institutions, mental health care is not something that should be hidden away in a big bleak building.
It is just as important and relevant as any other form of NHS treatment - particularly given that one in four of us may face mental health problems at some time in our lives.
To be honest I've seen top-class hotels that are less well equipped.
And that perhaps is deliberate also.
Although some patients may have to stay here for many months - for others the priority will be to get them home and treated in the community.
So it feels like somewhere pleasant to come to stay rather than somewhere you might dread of being forced to live.