Cardiff woman 'appalled' by five-hour ambulance wait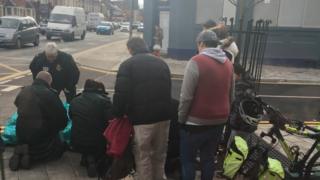 An injured woman who had to wait nearly five hours on the side of a busy Cardiff road for an ambulance has been left "appalled" by her ordeal.
Olwen Yu, 58, tripped on the kerb on Penarth Road and hurt her back on 4 March.
It happened at 10:30 GMT, but an ambulance did not turn up until 15:20.
She said she was "horrified". The Welsh Ambulance Service apologised at the time and said no ambulance was available.
Ms Yu could not feel her legs and was in "excruciating pain" after falling.
She said: "I was told the ambulance would be there within a few minutes... but time just went on and on."
Colleagues described her "turning blue" as her condition deteriorated and neighbours from the surrounding streets brought her blankets and hot water bottles.
Ms Yu, who was left with bruising, said she had to wait for another hour outside the the University Hospital of Wales.
"This can't happen to anybody else. It's wrong, it's inhumane," she added.
Welsh Ambulance Service chief executive Tracy Myhill said crews have to respond first to patients "with the highest medical need".
"We are sorry that we couldn't get there as quickly as we would have liked," she said.