Cardiff stem cell research restores rabbits' sight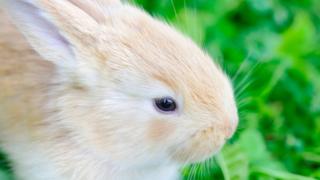 Scientists from Cardiff University have managed to restore sight in blind rabbits using stem cells.
The experiment involved generating several key types of eye tissue from human stem cells in a way that mirrors development of the whole eye.
This could pave the way for human clinical trials of front of the eye transplantation to restore lost or damaged vision.
The findings were published in the science journal Nature on Wednesday.
When the tissues were transplanted on to the rabbits, they were able to repair the front of the eye and restore vision.
Previous studies demonstrated particular cell types - such as those that constitute the retina or cornea - can be created in the laboratory from pluripotent stem cells, which have the potential to become any type of cell, but had not focused on the complexity of whole eye development.
The study's co-author, Prof Andrew Quantock, said: "This research shows that various types of human stem cells are able to take on the characteristics of the cornea, lens and retina.
"Importantly, it demonstrates that one cell type - the corneal epithelium - could be further grown in the lab and then transplanted on to a rabbit's eye where it was functional, achieving recovered vision.
"Our work not only holds potential for developing cells for treatment of other areas of the eye, but could set the stage for future human clinical trials of anterior eye transplantation to restore visual function."
About 4,000 corneal grafts are performed by the NHS annually, which rely on human organ donation.
The research, in collaboration with Osaka University, was funded by the Japanese government.