Injured woman's five-hour Cardiff pavement ambulance wait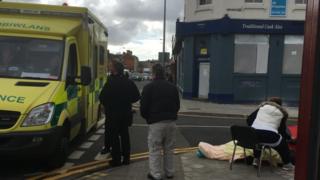 A collapsed woman was left waiting on the side of a busy Cardiff road for nearly five hours because there were no ambulances available.
She tripped on the kerb on Penarth Road at 10:30 GMT, hurting her back but an ambulance did not arrive until 15:20.
Colleagues described the 58-year-old as being "absolutely frozen" and "turning blue" as her condition deteriorated.
Welsh Ambulance Service chief executive Tracy Myhill apologised and said no ambulance was available.
The woman, who works at an office near the junction with Havelock Place, was injured after she tripped and fell.
"She landed awkwardly and her back went into spasm like she was paralysed," said colleague Liam Nolan, 24.
He called 999, but was told there was no ambulance available.
"A family around the corner gave her blankets and I brought her a hot water bottle.
"She was freezing as the weather changed from rain to sleet," he added.
Another colleague, Lindsay Regan, said: "It was unbelievable, lots of crowds were gathering around, including two passing police officers, who stayed with her and kept calling for help.
"Her condition was deteriorating and she was in a lot of pain, absolutely frozen. She couldn't feel her feet and was turning blue."
At 14:40, Welsh Ambulance Service spokesman confirmed a woman had been waiting for four hours for an ambulance after collapsing in Grangetown, but said it did not have any resources to send help sooner.
Ms Myhill later called the situation "unfortunate", adding: "The resources we did have were either already committed to patients or at hospitals.
"We have to triage our patients to ensure we respond first to the patients with the highest medical need."
Ms Myhill called it "another extremely busy day", saying: "We are sorry that we couldn't get there as quickly as we would have liked."