Gutsy Goose owner fined for illegally selling alcohol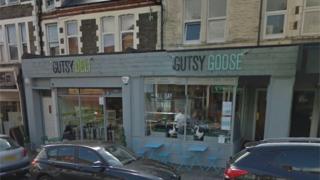 A restaurant owner has been fined £2,000 for selling alcohol at his unlicensed premises.
Darren Beddis of Gutsy Goose restaurant in Cathays, Cardiff, was found guilty of three charges relating to licensing.
Cardiff Magistrates' Court heard he had seven previous convictions for similar offences. He was fined £800 in June 2015 for illegally selling alcohol.
A council spokeswoman said he "chose not apply for a licence after he was caught and has been caught again".
In his defence, Beddis said he had sent a request for a transfer of the licence from the previous owner at the time but had not heard back from the council.
He confirmed the restaurant was no longer selling alcohol and he did not intend to apply for a licence.
Beddis was also ordered to pay £150 in costs and a £100 victim surcharge.