Dog owner's 'murder bid' over barking complaint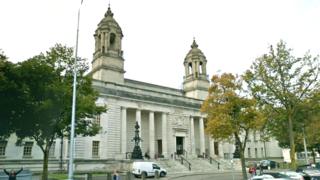 A dog owner carried out a "merciless" attack on a disabled neighbour after he complained about his dog barking, leaving him in a coma six months later, a court has heard.
Raymond Burrell, 38, from Adamsdown, Cardiff, went to Matthew Sheeran's flat "to finish him off" after Mr Sheeran made repeated complaints about noise.
Cardiff Crown Court heard Mr Sheeran suffered "horrendous" head and body injuries.
The defendant denies attempted murder.
He also denies causing grievous bodily harm with intent and inflicting grievous bodily harm.
Mr Sheeran had been heard shouting: "Shut up" towards Mr Burrell's flat on a number of occasions and a neighbour said he saw Mr Sheeran go to the flat in person to complain about the dog.
'Finish him off'
The court heard Mr Burrell became annoyed at the repeated complaints. On 1 September 2015 Mr Sheeran suffered "horrendous injuries to his head and body" following an attack.
Prosecuting, Michael Jones said: "This was a deliberate, severe and merciless attack which demonstrates [Raymond Burrell] wanted to leave his victim for dead.
"He came to the flat to finish him off."
A neighbour "was woken by loud banging around 7am" coming from Mr Sheehan's flat.
"From his window he heard shouting, screaming and a thudding noise as though someone was being kicked," Mr Jones told the court.
Mr Burrell was arrested outside the flat and investigators found Mr Sheeran's DNA on his shoes after he allegedly kicked him.
Mr Sheeran, who had used a stick prior to the assault, suffered bruising to his brain, cuts to his left eye sockets and many facial injuries, which were shown to the jury in photographs.
Mr Jones said: "Today, six months later, he has still failed to regain consciousness and remains attended by medical professionals."
The trial continues.