'Harmful' incinerator ash battle reaches High Court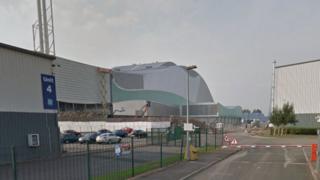 Campaigners concerned about the health and environmental impacts of recycling incinerator ash in south Wales have taken their fight to halt the plan to the High Court.
Vale of Glamorgan council granted planning permission for waste materials from Viridor's Cardiff plant to be processed at Barry Docks.
But residents worry dust from the site could harm human health and wildlife.
A judicial review into the matter is being held in Cardiff.
The court heard the council granted permission for the recycling facility at a former scrap metal site on the grounds the material processed there would be non-hazardous.
But Victoria Hutton, representing the residents, claimed advice given to Cardiff council by the then-regulatory body, the Environment Agency, for a permit for Viridor's incinerator stated it could not definitively say the ash would be non-hazardous.
'Negligible effect'
Ms Hutton claimed the council failed to take into account the risk to human health when granting planning permission and failed to consider the impact of the development on the nearby Cadoxton Ponds which is a Site of Importance for Nature.
The court heard the plant would process 70,000 tonnes of ash a year.
David Hercock, representing Vale of Glamorgan council, said a dust impact report which the council's planning committee looked at before granting permission, concluded the likelihood of dust levels breaching air quality standards, affecting residents and wildlife, was low.
He said a planned water spray system to break down dust would also help stop it moving from the site.
A report into the impact of the recycling plant on the local ecology found it would have a "negligible" effect on Cadoxton Ponds, he added.
Mr Justice Coulson KT is expected to hand down a judgement on the case in April.