Student 'became conscious during Cardiff sex attack'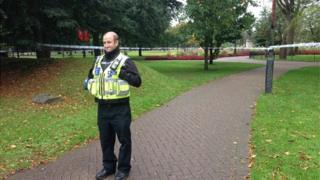 A student has described coming to as a man was attacking her in a Cardiff park after a night out during freshers' week.
Khalid Alahmadi, 23, took advantage of the 19-year-old's "vulnerability and intoxication" on 24 September 2015, a jury heard.
She said she recalled becoming conscious while slumped against a tree as Mr Alahmadi was pressed against her.
He denies sexual assault and the trial at Newport Crown Court continues.
On Tuesday, the jury was told the alleged attack took place in Gorsedd Gardens in front of the national museum in Cardiff.
The student told the court she spent the night with friends at the Tiger Tiger nightclub.
Ran away
She said she recalled meeting people and dancing, but because of the amount she had drunk, she had a limited recollection of what happened at the end of the night.
Prosecution barrister Matthew Cobbe told the jury Mr Alahmadi became aware of the woman's "vulnerability and intoxication and took advantage of that".
He said Mr Alahmadi intentionally touched the woman in a sexual way without consent and without believing she consented.
When interviewed by police, the woman said she had been "very drunk" and "unable to hold myself up".
She said when she came to, she ran away and the man made no attempt to follow her.
When she arrived at a friend's house, she said what had happened and her friend contacted the police.