Caerphilly schoolboy Harvey, four, saves choking classmate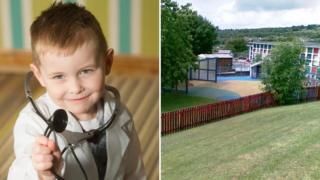 A four-year-old boy has been hailed as a life-saver after coming to the aid of a choking classmate in Caerphilly county.
Harvey Price slapped Aniya Williams on the back after food became lodged in her throat at Pantside Primary School, in Newbridge.
The youngster has been given the honorary title "Dr Harvey" by schoolmates.
Aniya's mother Sinead Williams, 23, said: "He's an angel."
Aniya was eating a sandwich but when she went to have a drink some food became lodged in her throat.
"Harvey reacted immediately and whacked her on the back. He jumped up without even a second thought," teacher Kira Watkins said.
"He is a delightful little boy and is very happy and caring."
Harvey's mother Kay Price, 30, said: "We're absolutely ecstatic, if I'm honest, me and his dad.
"For a four-year-old to think quickly like that - we can't get over it.
"What if no one else had noticed? They are all making a fuss of him at school.
"The dinner ladies and the breakfast club ladies, they all make a fuss of him and call him 'Dr Harvey'."
Ms Williams said her daughter did not understand how serious the situation could have been - but she had thanked Harvey and his family for saving her life.