Baby boy found dead in Newport was left in leather bag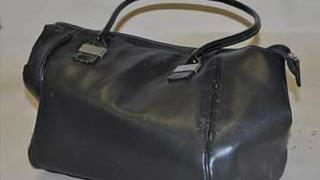 Police searching for the mother of a newborn baby found dead in Newport have released an image of a bag identical to the one the child was found in.
Gwent Police also confirmed the baby, discovered on wasteland close to Imperial Park on 29 January, was a boy.
The baby had been wrapped in a white towel with the words "St Annes" written along the edge and placed in the leather bag, police said.
The death is being treated as unexplained.
A post mortem previously showed the baby had been born at about full-term.
The force added it would be an "incredibly distressing" time for the baby's mother and it wanted to offer her "the right support".
Police have previously posted a video on social media urging the mother to get in touch.