Piano steeped in rock history sells for £13,100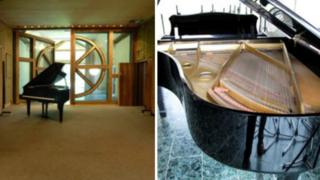 A piano steeped in rock history and used by some of the biggest names of the past 40 years has sold for £13,100.
As well as featuring on the cover of an Oasis single, it has been used in recording albums for bands such as Stereophonics and Simple Minds.
The Yamaha Grand Piano had been at Rockfield Studios, Monmouthshire, since 1973 before moving to nearby Monnow Valley Studios in 1986.
It was sold on online site eBay after reaching the end of its recording life.
The Japanese-made piano was put up for sale on the internet site on 10 February and received 65 bids by the end of the auction on Thursday evening.
"It has a good history and has been used by bands such as the Manics, Charlatans, Black Sabbath and Catatonia," said Tom Manning of the studio.
"There was much dispute, but it is unfortunately not the one Queen used for Bohemian Rhapsody. Freddie (Mercury) brought his own in for that session."
Famous albums it has been played on include Stereophonics' Just Enough Education to Perform and Oasis' Definitely Maybe - with it appearing in a photograph on the cover sleeve of the single Supersonic.
While it is no longer considered good enough for recording, it was put up for sale for home use.
The money raised from the sale will be used to fund a brand new mixing desk at the studio.