Cardiff rape accused claims sex 'was consensual'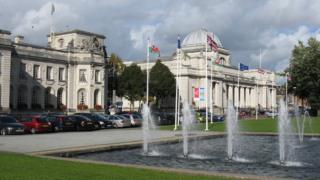 A man accused of raping a 20-year-old woman in Cardiff during fresher's week said she "could have just have said no" to his advances, a court has heard.
Remus Hamza, 40, is alleged to have attacked the woman near Cardiff University as she walked home alone on 20 September last year.
The prosecution at Newport Crown Court has alleged she was so drunk she could not have consented to sex.
The defendant, who is Romanian and lives in Cardiff, denies rape.
Mr Hamza told Newport Crown Court she smiled and "kissed him back" near the Civic Centre but did not say anything.
Speaking through an interpreter, Mr Hamza said: "This girl was looking at me, laughing at me, smiling and I thought she was smiling at me because she liked me and I just grabbed her backside.
"She just smiled at me and laughed... she came with me without me having to force her in any way.
"If she didn't want to have sex with me that night she could have just have said no."
He admitted the woman was intoxicated but claimed she had been "aware of herself".
He said he didn't tell police about the "consensual sex" in his first interview because he was embarrassed and had been advised by a solicitor to give no comment.
The court was told Mr Hamza pleaded guilty to exposure in a similar area in 2014.