Woman airlifted to hospital after Newport house fire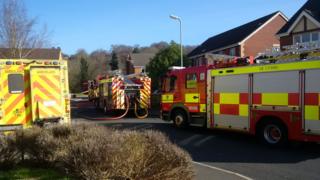 A woman has been airlifted to hospital following a house fire in Newport.
Firefighters were called to Delphinium Road in Rogerstone just before 10:00 GMT on Tuesday after a neighbour reported hearing a smoke alarm.
South Wales Fire and Rescue Service said the fire was accidental.
Lawrence Morris, the officer in charge of the incident said the case highlighted the importance of installing and maintaining smoke alarms.