Nine-hour ambulance wait for 93-year-old Cardiff man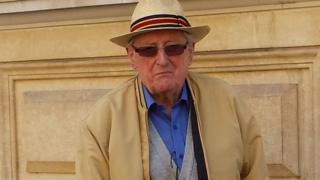 A 93-year-old man was left waiting nine hours overnight for an ambulance after suffering a head wound.
Eric Blundell, who lives in Rhiwbina, Cardiff, was getting out of a car on Monday when he fell and hit his head on the road.
A neighbour called 999 at about 21:00 GMT but a crew did not arrive until 06:00 on Tuesday.
The Welsh Ambulance Service said the wait was "unacceptable" and it was looking into the reasons for the delay.
After neighbours escorted him back to his house, Mr Blundell was made comfortable in a chair where he waited for the ambulance.
His son, Peter Blundell, said: "If he had been concussed or had an internal injury he could have been dead by the time he got attended to. This is appalling and questions need to be asked about what is going on."
Bob Tooby, the ambulance service's head of operations in the Cardiff and Vale area, said: "It's unacceptable for any of our patients to have to wait a long time for an ambulance, but especially an elderly patient who has had a fall.
"We're really sorry that we didn't respond to this call as quickly as we would have liked and are looking in close detail at the reasons behind this particular delay.
"We would welcome a conversation with this patient, or a relative, to better understand their concerns and apologise directly."