New Cardiff Met campus plan after Chinese TV deal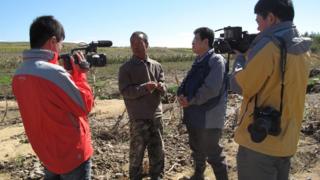 Plans to launch a media school in Cardiff have been unveiled after a deal was struck with a Chinese television firm.
The location of the new Cardiff Metropolitan University campus has yet to be decided, but it could include a TV centre and attract 2,000 students.
It is the first venture of its kind involving a private firm - Phoenix Education - and a Welsh university.
A memorandum of understanding was signed in Cardiff on Monday.
Cardiff Metropolitan's president and vice-chancellor, Prof Antony J Chapman, said: "This project is the first scheme of its kind in Higher Education in Wales, and possibly in the UK.
'Ambitious project'
"This is an ambitious project underpinned by an innovative financial model. It's taken a great deal of effort to get to this stage. Now that work will continue, to make our collective vision a reality."
The memorandum was endorsed by Cardiff council. Its cost and timescale is not yet known.
Phoenix Education is a subsidiary of Phoenix Satellite Television Holdings, a New York and Hong Kong Stock Exchange-listed company with six channels broadcasting to 360 million viewers worldwide.