Penny & Giles factory in Cwmfelinfach to close in 2017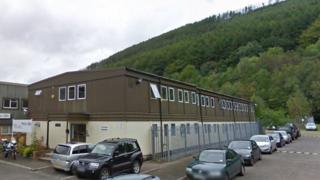 A factory employing about 150 people in Caerphilly county is to close next year, its United States-based parent company has confirmed.
Penny & Giles in Cwmfelinfach, near Caerphilly, will shut during 2017.
The firm makes equipment, including joysticks, sensors and solenoids, for commercial vehicles and industrial use.
It is part of the North Carolina-based Curtiss-Wright Industrial Group, which blamed the closure on economic conditions.
The company's Jim Ryan told BBC Wales that the Welsh site would close "at some point" next year.
'Current business'
Asked if workers might be offered transfers to other parts of the group, he said he was not able to give more details.
Curtiss-Wright has about 9,000 staff and makes components for on-road and off-road vehicles, as well as wheelchairs and mobility scooters.
About three-quarters of its staff are in the US, with others Germany, China and India as well Dorset, in the UK.