'Fake adverts' exposed at Barry slimming pill shop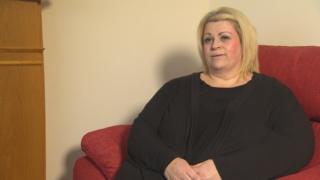 A company selling slimming tablets online and from a shop in the Vale of Glamorgan has "falsely advertised" products and made unfounded health claims, a BBC investigation has found.
Sculpts Extreme in Barry used "before and after" photographs of people who said they had never used the products.
Its owner said the photographs had been removed and the staff member responsible dismissed.
Trading Standards said it would look into the allegations.
Karen Dawson, who lost more than eight stone in a slimming club, told BBC Wales' X-Ray she felt "violated" after her photographs were used.
Ms Dawson said: "I was absolutely livid that somebody would do such a thing, I've never taken slimming tablets. I don't agree with slimming tablets."
Sculpts Extreme, owned by Lee Szuchnik, claimed customers could lose between 4lbs and 8lbs a week on its slimming pills.
On the label it was claimed the tablets could "liberate fat from fat cells" but Prof Nadim Haboubi, chairman of National Obesity Forum Wales, said this was "absolute rubbish".
By law any such health claims must be authorised by the European Food Safety Authority and these were not.
Lee Szuchnik of Sculpts Extreme also told an undercover BBC researcher one of the ingredients, bitter orange peel, "peels the fats from the walls of your stomach" and "you don't have to go to the gym" to lose weight if using the product.
Professor Haboubi said the claim did not make scientific sense and "everybody has to exercise".
Mr Szuchnik said there were labelling errors on the pots which would be corrected. He added he had a lot of happy customers and many of them had lost weight without exercising.
X-Ray will be shown on BBC One Wales at 20:30 GMT on Monday.