Terror trial: Kristen Brekke 'totally against extremism'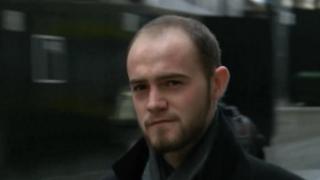 A Cardiff man accused of helping a teenager travel to Syria to fight with Islamic extremists is totally against extremism, the Old Bailey has heard.
Aseel Muthana, 19, from Cardiff, joined his brother Nasser in Syria in 2014.
Kristen Brekke, 20, Forhad Rahman, from Cirencester, Gloucestershire, and Adeel Ulhaq, of Sutton-in-Ashfield, Nottinghamshire, deny helping in the preparation of an act of terrorism.
Mr Brekke said Aseel Muthana cried at the idea of his brother being a jihadi.
The court heard Mr Brekke became a Muslim while a pupil at Cardiff's Fitzalan High School and took the declaration of faith at a mosque in Riverside.
He met Aseel Muthana in 2012 when they worked together at a cafe in Grangetown - Mr Brekke described him as friendly, easy going and always joking.
At the beginning of the trial, the jury was shown mobile phone footage of Mr Brekke and Aseel Muthana.
In it, they fantasise what they are seeing is a checkpoint in Raqqa, Syria.
Mr Brekke is seen waving a replica gun and Muthana is heard saying: "If you're watching this I'm probably dead - like a legend or something."
He said they had gone to shoot bottles and cans, adding that army surplus clothes found at his home were his and had not been bought for Muthana.
The court previously heard that on 21 February 2014, Muthana left Cardiff on a coach to Gatwick and then took a flight to Larnaca in Cyprus.
From there he travelled through Turkey to Syria. He has not returned.
Mr Brekke, Mr Rahman and Mr Ulhaq all deny helping Muthana travel to Syria.
The trial continues.