Cwmcarn Forest visitor slump as 150k trees felled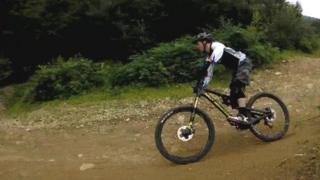 An attraction is set to record a 10% drop in visitors, believed to be from people wrongly assuming it is closed.
Cwmcarn Forest Drive in Caerphilly county shut to cars in 2014, so 150,000 disease-hit trees could be treated.
But activities such as camping, walking and mountain biking have not been affected by ongoing work.
Cwmcarn Forest visitor centre manager Michael Owen believes people have not realised, with numbers set to drop from 250,000 to 225,000.
Mr Owen says his staff have faced an uphill battle getting the message out that it is only the drive that is affected.
"We have been trying all sorts to publicise the fact we are not closed," he said.
"The only thing you can't do is the seven mile drive. You can still walk it and cycle.
"The valley floor is unaffected, apart from the strange buzzing in the distance (of tree felling work)."
Figures are recorded from the number of people who enter the visitor centre between April to March, with the yearly total on course to drop to 225,000.