Merthyr council education department 'special measures' lifted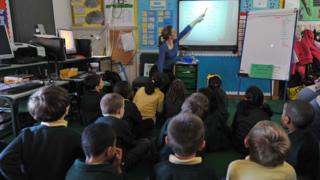 Special measures have been lifted at a council but a watchdog has warned there should be "no let-up in the drive for improvement" at its schools.
Merthyr Tydfil's education department had been under close scrutiny following concerns about standards affecting pupils in 2012.
Inspectors from education watchdog Estyn said "sufficient progress" had been made.
It is the last of six Welsh councils to be taken out of "special measures".
Torfaen was given the all-clear on Friday.
The watchdog said attendance rates in primary schools in Merthyr council's area still needed to improve.
It also wants the authority to ensure needs are met for all pupils with additional learning needs.
Management changes
The department was told to act on eight areas of concern highlighted during an inspection in 2012, including ensuring better results for pupils in all key stages, and improving management at under-performing schools.
Both areas have seen "strong progress", according to the latest report.
Estyn said it was now satisfied with council-led strategies to reduce the number of young people not in education, employment or training, which has been halved between 2012-2014, although no figures were quoted.
The report said: "From an early stage, all acknowledged the need for fundamental reform of the authority's working practices in order to remove barriers to progress and improve planning and performance management.
"As a result, the council has worked effectively with the recovery board to ensure generally strong progress across its education services."
The report noted there had been a period of "significant change" of senior managers within the education department.
Education Minister Huw Lewis praised the work of recovery boards for providing "challenge and support" to local councils.
He said they had "injected pace and rigour to the recovery as well as bringing in additional expertise and experience".