Smouldering wood chip fire at Newport dockyard put out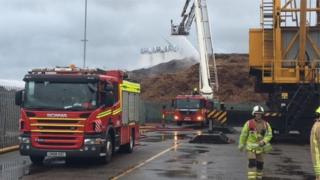 A wood chip fire which first ignited at a Newport dockyard nearly two months ago has been put out.
The fire had been smoking at Alexandra Docks since 20,000 tonnes of wood first caught alight on 5 December.
Residents had been advised to stay indoors and keep windows and doors closed after the initial blaze.
South Wales Fire and Rescue Service said the fire, which was found to be accidental, was put out on Monday.