Rhoose pensioners 'affected' by night Network Rail repairs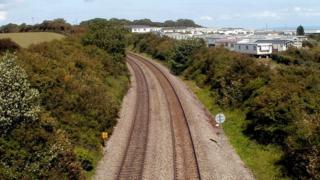 Elderly people are being "driven to despair" by seaside railway maintenance work being carried out at night.
Noise from the repairs has been leaving pensioners at Porthkerry Leisure Park in Rhoose, Vale of Glamorgan, with "sleepless nights" since 5 January.
Eric Tonks, 70, said the work was being undertaken from midnight, five days a week.
Network Rail said disturbance was "unavoidable" but it would make "every effort to minimise unnecessary noise".
Up to 30 retired residents, aged 70 to 90, live 98ft (30m) from the railway track.
Disruption
Mr Tonks said: "The main heavy, noisy work starts at midnight and carries on for at least three hours.
"I know that they have to do their work and modernisation but why can't they do it during the day?
"It's going to carry on until April, we're devastated. It's not doing our health any good."
A spokeswoman from Network Rail said essential work was being carried out in the area and that the company was "contractually obliged" to work at times that cause the least disruption to train services.
"Unfortunately, this means carrying out some of our improvements during the night and at weekends," she said.
"We apologise for any inconvenience these essential works may cause."