Man, 75, shot himself in Ystrad Mynach police car park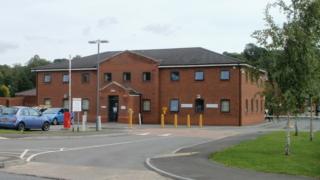 A retired businessman struggling to cope with a debilitating lung condition shot himself in the head outside a police station, an inquest has heard.
Ronald Arthur Warren, 75, died from the gunshot wound at Ystrad Mynach, Caerphilly county, on 21 October.
The former smoker feared pulmonary fibrosis would suffocate him, Newport Coroner's Court heard.
On Thursday, coroner David Bowen recorded a conclusion of suicide.
Mr Bowen told the inquest Mr Warren, from Ystrad Mynach, had never been in trouble with the police and did not hold any grudges with officers.
He believed he chose to kill himself outside the police station simply so his family or members of the public would not have to find his body.
'Panic attacks'
The hearing was told Mr Warren had been an active man, enjoying sailing, walking and hang gliding, but after retiring 10 years ago his breathing got "progressively worse".
In the months before his death he needed oxygen constantly, struggled to walk upstairs and needed help dressing.
In a written statement read out to the court, his wife Pamela said he was prescribed anti-depressants, which he stopped taking, and started getting panic attacks, fearing his condition would cause him to suffocate.
But she said he had never told her he wanted to end his life.
However, after dropping her into Cardiff to go shopping that day, Mr Warren parked directly outside the doors to Ystrad Mynach Police Station, got out of his car and shot himself, which was captured on CCTV footage.
Mrs Warren said her husband used to go shooting rabbits and pheasants with his brother and 27 years ago showed her a gun which was once owned by his father.
"I told Ronald I didn't like guns and I didn't want to see it. I thought he had got rid of it," said Mrs Warren, who ran a successful business with her husband manufacturing hospital equipment.
Mr Bowen said Mr Warren shot himself in the head with a handgun "which his family had no idea he had".