Cardiff nurse did not 'fail to spot child neglect signs'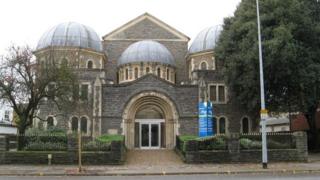 A community-based nurse has denied claims she failed to identify signs of potential child neglect.
Lysanda Wajsowicz faces nine allegations relating to her time working out of the Fairwater Health Centre, Cardiff, between 2009 and 2012.
In one of her cases, two parents were later arrested on suspicion of neglect.
The health visitor, who retired in 2012, is contesting the claims at a Cardiff Nursing and Midwifery Council (NMC) disciplinary hearing.
Ms Wajsowicz is accused of failing to identify potential safeguarding issues for two children under 10 who were later found by a GP to have scabies, in October 2011.
But Ms Wajsowicz, who has 25 years' experience, denies earlier failing to take "appropriate steps" to ensure they were safe.
'Experienced'
Her counsel, Sara Lewis, said: "At that point in time, the registrant did not see this family as a child protection case, neither did the police, neither, importantly, did children's services.
"Her subjective view as an incredibly experienced health visitor was well in line with these other authorities."
The parents were later arrested in January 2012 on suspicion of neglect, with the youngsters removed. The father was also subsequently arrested on suspicion of abusing another child.
But Ms Wajsowicz denied being at fault for failing to follow-up for a month after the GP visit in October 2011.
Her lawyer said the GP "had not requested a visit" and someone who had looked into the case notes told her there was "nothing to be concerned of".
"Put yourself in her shoes," Ms Lewis told the panel. "Are you going to accept that? I think you probably would."
Ms Lewis said her client tried unsuccessfully on several occasions to access the family's home in December 2011.
And there was "no evidence" to suggest - as alleged - that the state of the home at that point matched dire conditions later recorded in police photographs, Ms Lewis added.
She said Ms Wajsowicz was working under "high pressure", with at least 294 cases, and had been told to "reprioritise the priorities" to focus on child protection cases.
'High pressure'
With regards to several allegations relating to Ms Wajsowicz's record-keeping, her counsel said she was toiling in a "particularly unworkable situation".
Ms Lewis said she had health problems and could not type, but was given "no extra time" to do her notes using software which "did not work".
She told the panel: "I'm going to ask you to please bear in mind all you have heard in evidence about the state of the service back in 2011 and the struggles that the service was facing.
"Does the fault really lie with the registrant here?"
The hearing, which is expected to last until Thursday, continues.