Gareth Bale surprises patients at Children's Hospital for Wales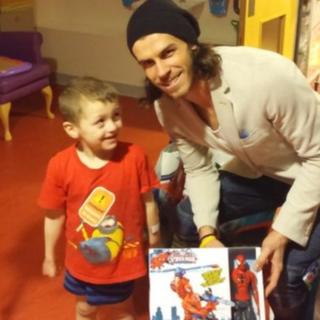 Santa Claus was not the only one handing out presents on Christmas Eve.
Wales and Real Madrid football star Gareth Bale surprised children at a Cardiff hospital by turning up unannounced with bags full of toys.
Lucy Griffiths, whose son Jayden was at the Children's Hospital for Wales with breathing difficulties, said: "It made our Christmas."
She said Bale, who is from Cardiff, wished the children a merry Christmas as he gave out the gifts.
"He just turned up as a surprise - not even the nurses knew about it," said Ms Griffiths, from Newton Abbot in Devon, who was visiting her sister in Cardiff when Jayden became ill.
"It was a lovely thing to experience. He gave Jayden two presents, wished him a merry Christmas and said to get well soon.
"There were quite a few children there and to have someone like that come to do that was amazing. Jayden had a huge smile on his face."
Ms Griffiths said Bale turned up at the hospital with his pregnant girlfriend, Emma Rhys-Jones, at about 16:30 GMT on Thursday.
Jayden, who has asthma, was allowed home later that evening.