Almost 120 cars damaged in 24 hours in Somerton, Newport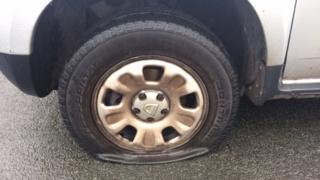 Almost 120 vehicles in an area of Newport have had their tyres slashed, wing mirrors damaged or windscreen wipers snapped in just over 24 hours.
Between Sunday evening and Monday morning, 105 vehicles were damaged in Hawthorn Avenue and the surrounding streets in Somerton.
On Tuesday morning, a further 12 reports of criminal damage were made.
A 30-year-old man from Newport has been arrested on suspicion of causing criminal damage.
Gwent Police is investigating and a spokeswoman said the force is keeping an open mind as to whether more than one person is responsible.