Arlindo Furtado: Suicide verdict in stabbing death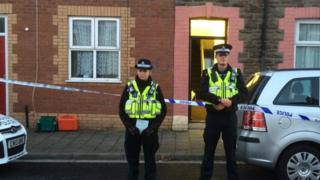 A Cardiff man who was tasered by police after stabbing himself in the neck was not killed by the electric shock, a coroner has ruled.
Arlindo Furtado, 41, stabbed himself in the throat after spending two hours talking to police at his Splott home.
At Aberdare Coroner's Court on Monday, a pathologist said the cause of death was a stab wound to the neck.
Coroner Andrew Barkley recorded a conclusion of suicide and said he had no concerns how police handled it.
He added: "There is no evidence to support the contention that the Taser was a direct or indirect cause of death.
"I am satisfied so that I am sure he did die from a deliberate act initiated by himself."
The inquest heard Mr Furtado was wanted for a domestic assault on a child and police made "extensive efforts" to persuade him to put down the knife.
He was demanding to speak to his wife on the phone when the incident happened.
Mr Furtado died at Cardiff's University Hospital of Wales after armed police were called to his house in Adeline Street on October 11, 2014.
In evidence read out to the hearing, Mr Furtado told officers he had seen films and "knew how it would end".
An investigation by police watchdog, the Independent Police Complaints Commission, found police officers acted appropriately during their interaction with Mr Furtado.