Sailor James Rowson's Christmas message from the Gulf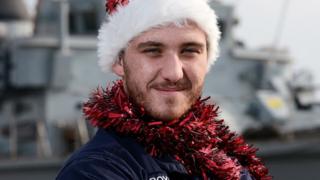 While one Royal Navy officer's family tucks into its turkey and stuffing this Christmas, James Rowson will be sailing the ocean wave.
The 21-year-old from Blaina, Blaenau Gwent, will be on board HMS Chiddingfold in the Gulf.
The minehunter is one of seven Royal Navy ships deployed to the region over the festive period.
But while James enjoys his dinner in the heat of Bahrain, his loved ones will be very much in his thoughts.
"Merry Christmas to all my family and friends, can't wait to see you all in the new year," he said.