Force not with 'Star Wars barber' after Barry raid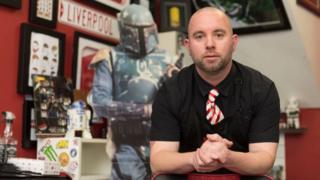 A 'Star Wars barber' has felt the full force of the dark side - after raiders looted £800 of film memorabilia.
Steve Cleaver was "devastated" after thieves broke into the Barry hairdresser's and took his collection.
His Vale of Glamorgan premises was renowned for its display, that included an original 1977 Millennium Falcon space ship replica worth £300.
He believes excitement from Thursday's premiere of the latest instalment, The Force Awakens, triggered the raid.
The South Wales Police force is investigating the theft, which happened earlier this month, and has appealed for witnesses.
A VHS box set of the original films, signed by Darth Vader actor David Prowse and worth £200 was also taken.
Other memorabilia included an action figure of bounty hunter Boba Fett in its packaging and signed by actor Jeremy Bulloch, worth £50.
Memorabilia can sell for huge amounts, with an original Boba Fett figure selling for £18,000 earlier this year.
"They were things you can't just pick up from the shop, like the VHS box set signed by the guy who played Darth Vader.
"Losing my till money and tip jar is one thing, but my Star Wars stuff has been with with me for so long. It's not nice," Mr Cleaver, 39, said.
He said he has been checking online re-sale sites, but is beginning to give up hope for the return of the Jedi-related memorabilia.