Fish cake gun man jailed after Fairwater Green incident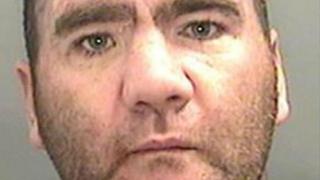 A man who threatened a chip shop worker with a gun after being refused a free fish cake has been jailed.
Nikki Griffiths, 33, of Roath, Cardiff, pleaded guilty to attempted robbery and possession of an imitation firearm at the shop in Fairwater Green, Cardiff.
Cardiff Crown Court was told Griffiths pulled the gun from his pocket when his demand was snubbed after being told the shop had sold out of potato fritters.
He allegedly told the worker "it's not worth it" before leaving the shop.
The hearing was told she thought she was going to be shot as she did not know it was incapable of firing.
Jailing Griffiths for 40 months, Judge Michael Fitton QC said: "This was a serious offence. That member of staff was scared and shocked."