Cardiff Newsagent Three: Murder miscarriage report published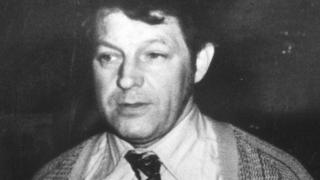 There is insufficient evidence to charge anyone over a miscarriage of justice following a 30-year-old murder, a police report has concluded.
Three men from Cardiff spent a decade in jail after being wrongly convicted of killing newsagent Phillip Saunders in 1987.
Operations Fortitude and Resolute were set up to review the original investigation.
In the findings, South Wales Police said procedures have since "developed".
The operations investigated complaints made by Michael O'Brien, one of the men convicted and who spent 11 years in prison.
However, he was cleared in 1999 along with Darren Hall and Ellis Sherwood - known collectively as the Cardiff Newsagent Three.
Mr O'Brien alleged:
Police officers had threatened and coerced key witnesses into providing and giving false evidence
Named key civilian witnesses had perjured themselves at the trial by providing false evidence
Det Insp Stuart Lewis, now retired, had perverted the course of justice by fabricating an overheard cell conversation
Det Insp Lewis had perjured himself by presenting the fabricated evidence against Mr O'Brien and Mr Sherwood at the trial.
Both investigations analysed more than 20,000 documents, interviewed six people under caution, and interviewed and obtained statements from 90 witnesses.
The report, published by South Wales Police on Thursday, said trial witnesses who Mr O'Brien had accused of perjury had given evidence which "conflicted" or was later "retracted or altered".
Yet the five key witnesses had "refused to cooperate with the investigations", the report said, meaning police were "unable to identify any evidence to support or refute the allegations that police officers had pressurised witnesses into giving false evidence".
The report stated police submitted the findings to the Crown Prosecution Service, which ruled in November 2012 there was insufficient evidence to charge anyone with perjury, perverting the course of justice or police misconduct.
'No stone unturned'
A key complaint by Mr O'Brien was that Det Insp Lewis fabricated evidence - a written note of a cell conversation between him and Mr Sherwood implicating them both in the killing.
But the report said the investigation found no evidence of wrongdoing.
Analysis by four linguistic experts found that the note was not an "entirely accurate recording", yet they were unable to say whether this was due to fabrication or poor transcription.
Experts were also unable to assess the note itself because it was thought to be among case papers which went missing after the trial, the report added.
In its conclusions, the report said: "There have been significant, well publicised changes in police procedures and working practices nationally.
"Over the 27 year period since the tragic murder of Phillip Saunders, legislation, policy, national doctrines and guidance manuals have been developed and published.
"South Wales Police has throughout the years embraced such change and improvements with vigour, ensuring emphasis on robust and intrusive scrutiny by supervisory officers and line managers."
The reported noted that the Police and Criminal Evidence Act (PACE) meant the management, treatment and care of prisoners and witnesses in police custody "is now a world away from where we were in 1987".
The report concluded that there was "no stone left unturned" in pursuit of justice "for all involved".
A reinvestigation of the murder of newsagent Phillip Saunders began in 2003 but found no further evidence.
Since the report was completed, the force and its commissioner have discussed it with Mr O'Brien.