Sunken Brains barge in Cardiff Bay removed from dock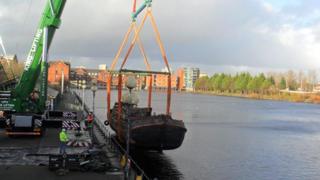 A barge which sank after 30 years in a Cardiff dock has been hauled out of the water and taken away for scrap.
The Eben Haezer took in water and foundered at Bute East Dock almost two weeks ago.
Owner Brains Brewery was criticised by residents for "allowing it to deteriorate" outside The Wharf pub.
Brains have now decided to remove it altogether and brought in a large crane to lift it out from the bottom of the dock.