'Peeping Tom stabbed girlfriend 18 times', court hears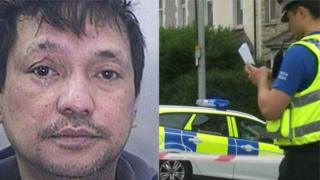 A Cardiff man tried to murder his girlfriend following a row over footage he had of a woman in the bath, a court has heard.
Arnel Raymundo, 48, of Grangetown, allegedly stabbed Anna Caladiao, 43, in the back 18 times with a kitchen knife after she told him to move out.
He denies attempted murder, voyeurism and an alternative charge of wounding with intent.
Cardiff Crown Court heard Miss Caladiao suffered "life-threatening injuries".
She told company stock-taker Mr Raymundo she would not live with a "peeping Tom" after discovering the secret film on a USB stick at their shared home in January 2015, the court heard.
She reported it to the police.
The jury was told he left their home and lived in a hotel before returning some weeks later.
On 12 June, the court heard they had an argument about the video footage and she told him forcefully to leave again.
'Managed to escape'
Mother-of-two Miss Caladiao said: "He asked me 'if I go to jail would I wait for him?' And I said 'no.'
"He wasn't out of the room that long when all of a sudden he started stabbing me in the back.
"He was using a big silver knife. It had come from our kitchen."
Prosecutor James Wilson said: "He intended to kill her. He told her he was going to kill her before pulling her to the floor and stabbing her in the back.
"He was telling her he was going to watch her die. She felt like she was going to die but she managed to escape out of her house."
Miss Caladiao managed to crawl on to a busy street, the court heard.
Witnesses described how she had been "saturated in blood" with an "absolute look of terror on her face".
She was taken to hospital after suffering stomach and lung lacerations, spending six days in intensive care.
The prosecution said Mr Raymundo fled the scene after the attack, buying new clothes and catching a bus to London.
He was arrested 13 days later in Croydon, south London.
Mr Raymundo told police Miss Caladiao had fed him crystal meth and he started stabbing randomly during a dream because he "felt scared".
The trial continues.