Man flicked exhaust smoke switch in police car chase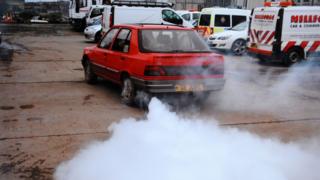 A driver from Carmarthenshire has been warned he could be jailed after deliberately releasing smoke from his engine during a police chase.
Simon Chaplin, 62, from Hebron, flicked a switch in his Peugeot 309 near Haverfordwest, Pembrokeshire to release a "colossal" amount of exhaust smoke.
Swansea Crown Court was told a bucket of diesel behind the passenger seat had been connected to the exhaust.
Chaplin was found guilty of causing danger to other road users.
PC Dafydd Campbell Birch told the court he had been forced to slow to five miles (eight km) per hour.
He said he decided to stop the car on B4329 near Haverfordwest, Pembrokeshire, because it had a number plate which read "DE JURE", and "didn't look right".
"There was a vast amount of dense smoke coming out the back. It completely obscured the road", he said.
Chaplin will be sentenced at a later date.