Asda sorry for Coca-Cola truck traffic chaos in Cardiff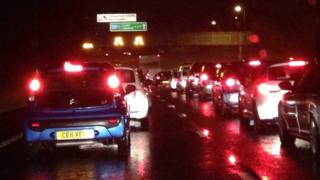 Supermarket-giant Asda has apologised to drivers for traffic chaos in Cardiff caused by the festive Coca-Cola truck.
The lorry was parked at the Coryton store, junction 32, all day.
But tailbacks built up and queued five miles (8km) eastbound along the M4. Travel time between Pontypridd to Coryton along the A470 southbound was approximately 90 minutes.
The retailer said sorry after angry drivers took to social media to complain.
"We apologise for any inconvenience caused this evening," a spokesman said.
"The event proved extremely popular and we're doing all we can to help customers and local commuters around the store to get on the move again."
Mum-of-one Bethan Collins, from Rhiwbina in Cardiff, said her evening had been "completely ruined" by the truck.
"I'm supposed to be out with friends but it's taken me so long to get home and my babysitters took two hours to drive from Merthyr that I can't go," she said.
"What was the council thinking allowing this truck at a major interchange - it's out of order."
Christian Jones told BBC Wales on Facebook: "It is in the most ridiculous place in Cardiff, right at the heart of the capitals busiest junction!
"It should be in the city centre where people can use public transport to get there. For most people the only way to Coryton is to drive."