Indiana Jones's outfit to go on show at Cardiff museum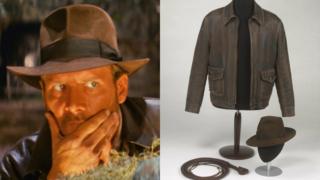 The jacket, hat and whip of big-screen adventurer Indiana Jones will be displayed for the first time in the UK as part of a new exhibition in Cardiff.
The famous items, worn by Harrison Ford in the films, will be displayed next year at the National Museum Cardiff.
Fans will be able to see the items as part of the Treasures: Adventure in Archaeology display from 26 January.
The original trilogy, directed by Steven Spielberg, made more than £560m at the box office in the 1980s.
Kingdom of the Crystal Skull, the fourth and most recent film in the franchise, was released in 2008.