River Usk fall woman, 72, treated for effects of exposure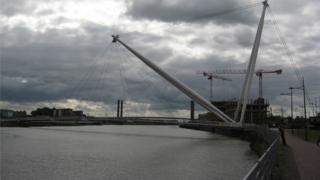 A 72-year-old woman has been treated for the effects of exposure after falling into a river in Newport.
Police said the woman was in a serious condition after being rescued from the River Usk at about 20:20 GMT on Friday.
Firefighters, police, a coastguard rescue team and the ambulance service were all sent to the scene.
The woman, who was in the water for about 15 minutes, was treated at the city's Royal Gwent Hospital. Her current condition is not known.