Woman, 97, robbed in home 'targeted due to sticker on bin'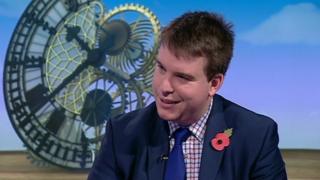 A 97-year-old woman who was robbed in her Cardiff home could have been targeted due to a sticker on her bin, an MP has suggested.
Cardiff North's Craig Williams said that orange diamonds, aimed at helping refuse workers, enable criminals to target elderly and vulnerable people.
The council places them on bins so workers can see who needs assistance.
In the House of Commons, Mr Williams called for a debate on the role of councils in protecting the vulnerable.
He raised the issue with Commons leader Chris Grayling and described it as "most horrific and cowardly" act against his constituent, from Rhiwbina.
'Appalling crime'
Mr Williams added that a debate on public authorities protecting vulnerable people would help him get on record that Cardiff council should not have the orange diamonds on bins.
They are "highlighting to criminals who are vulnerable in our city", he added.
Mr Grayling said he would raise the issue with the Department for Communities and Local Government.
He said: "I think any incident like this is absolutely shocking and all of us on this side of the house would express our dismay that anybody could commit such an appalling crime against such an elderly lady."
South Wales Police has appealed for witnesses following the incident on Saturday.